Do you want to add a see-through glass wall to a project? There are two ways to do this, depending on what you want to achieve.
Method 1: Use a Room Divider
A room divider is an easy way to add a glass wall. This option creates a single panel, which you can size to your needs. Note that you cannot add a door into a room divider, so if you need a complete glass wall with a door, check out the second method below.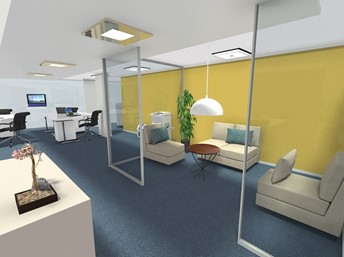 To add a glass wall using a room divider
Open Furniture mode.
Search for Room Divider.




Click to select the glass divider and click to place it (or drag it onto your floor plan).
Click to select it and then use its Properties on the right to change its size.


Method 2: Place Glass Material on Walls
Another way to create glass walls is to add Glass material on both sides of a wall, which will make it see-through. Tip: If you need to add a door to the wall, then this is the method to choose.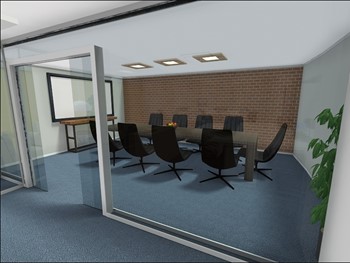 To place glass material on walls
Open Walls mode.
Click the wall you wish to add glass to. Its Properties appear on the right.
Click Material Side A. The Select Material page appears.
Search for Glass. Find the solid glass piece, which has a light green color.




Click the glass and then click Apply.
Repeat steps 4-5 for Material Side B.
To add a glass door, switch to Windows etc mode and search for Glass Door. Click to select one and click to place it, or drag your favorite onto the floor plan.
Tip: To view your glass wall, use the camera to take a snapshot.
Don't Have the App Yet?

Make sure you have downloaded the RoomSketcher App to your computer or tablet.