This article describes the steps for the app (Mac, Windows and tablet). To learn how for the web version, see Add an Entrance Arrow/Block Arrow (Web). 
You can add an arrow to a Floor Plan to highlight the entrance of a property.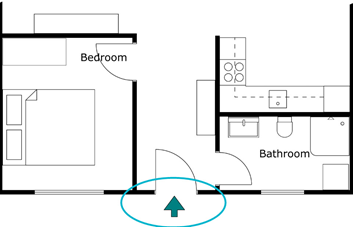 To add an entrance arrow / block arrow
Open Windows etc. mode (click the red Mode button and click Windows etc)
Open the Symbols, Text, and Lines category.
Click the Block Arrow to select it and click to place it onto your floor plan.



To change the size, type a size in its Properties on the right.

To move it, use the curved blue arrow to rotate it, and press and drag it into place.

To choose which floor plans it appears on, on the right, in Properties, choose whether to Render in 2D and/or Render in 3D.
To set the color of the Block arrow - Pro Subscriptions
Sign in to your RoomSketcher account on the web.

Click Account on the left, and then click More > Account Settings on the right.
Click Advanced Profile Settings.



On the Render tab, press the pencil to the right of Block Arrow Color, choose a color from the drop down or type a hex color and press OK.
Press Apply. The arrow color will appear when you generate your 2D or 3D Floor Plans.
Tip: To see a preview of the arrow color on the floor plan, return to the RoomSketcher Home Designer app, and click Menu > Preview 2D Floor Plan.
Related Articles