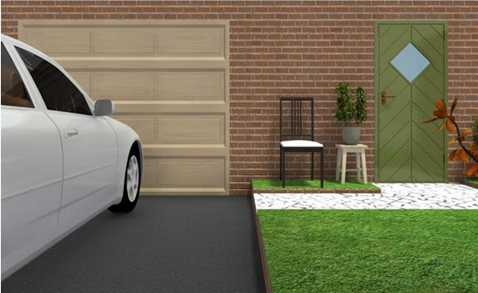 You can add impressive outdoor areas to your floor plans. Make a lawn, path, driveway or garden bed by drawing zones. This article covers the following topics:
Draw an Outdoor Zone
Tip: Before you start drawing outdoor zones, it's a good idea to paint the exterior of your building. It is a quicker process to paint all the exterior walls before you create outdoor zones. For detailed steps on how to paint the exterior of a building, see Paint and Decorate Walls.
To draw an outdoor zone
Open a project in the RoomSketcher App.
Click or tap the red Mode button and open Walls mode.
Click the Divider tool and draw the outline of your outdoor area. Make sure to draw a completely enclosed area (or you will not be able to add grass and other materials in the next steps).


Add Additional Zones
Use this technique to add paths, patios, garden areas, or even a swimming pool!
In Walls mode, click the Divider tool and draw additional zones. Remember to draw complete enclosed shapes.




Click the Select tool and select an area or zone to view its Properties on the right. If desired, you can type a name for the area, such as "Driveway" or "Yard" in Zone Name.
Click Advanced Properties and set Show Ceiling to OFF for each zone or area.


Add Materials
Materials include concrete, grass, soil, and even water.
Click the red Mode button and switch to Materials mode.
Search for a yard material, such as Concrete, Grass, Gravel, Soil, Paving stone, or Water. Then drag and drop it to your yard area.




Repeat until you have added materials to each area or zone.




To see the results in 3D, take a snapshot or look at it in Live 3D.
Add Fences, Railings or Hedges
In Walls mode, use the Select tool and click a divider line (that you added when drawing your outside zones above) to select it.
On the right, click Railing. Click a fence or hedge to select it, then click Apply.




To see the results in 3D, take a snapshot.
Hedges are available for all Pro and Team customers. Don't have Pro or Team yet? No Problem! You can directly upgrade from our RoomSketcher Pricing Page.
Add Furniture & Accessories
Find outdoor furniture and accessories in Furniture mode. Tip: Open the Outdoor category, or use the Search to locate items. You'll find cars, bicycles, lawn mowers, fences & garden gates, outdoor fireplaces, pools, swing sets and much more.
Top Tips
Find garage doors in Windows, etc mode (along with all other doors).
Another way to add a pool (besides choosing one in Furniture mode) is to create a zone with the Divider tool, and use Materials mode to add the material Water. You can select the pool area and adjust the floor height to lower the pool water height to below ground level.
With RoomSketcher Pro, you get access to our complete outdoor product library.
An Example Garden with Soil and Plants
You can add soil to a zone or area, and then add plants.
To add soil
In Materials mode, select a zone, click Floor Material and search for Soil. Click on the soil to select it and click Apply. The soil appears in the zone.


To add plants
Click the red Mode button and switch to Furniture mode.
Open the Plants & Accessories category or use the Search to find plant, tree or flower. Since in this example, we are placing plants in the soil, look for items without a planter pot. Click an item to select it and click to place it in the garden bed.




When you place the item in the flower bed, its Properties appear on the right. You can make a plant bigger or smaller by changing the Height, Width, and Depth.
To add another plant, click the Add (+) tab.




Examples in the Floor Plan Gallery
Check out our Floor Plan Gallery where we have many great site plans. You can open all projects in the RoomSketcher App, save a copy and make your own edits.
Floor Plan Gallery | Backyards, Gardens and Site Plans