There are several ways to add outside measurements to 2D Floor Plans in the RoomSketcher App. The steps in this article will add outside measurements that look like this: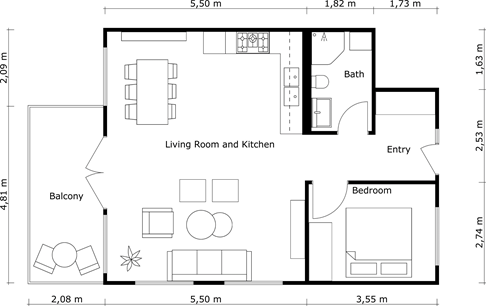 This feature is available for all paid plans. 
To add outside measurements
Open a project in the RoomSketcher App.
Open Walls mode.
Click the Select button.
Click a wall that should have outside measurements. The wall properties appear on the right.
Click Advanced Properties.




Click Show Measurement and choose top, bottom, left or right, depending on where you want the measurement to be displayed for the selected wall.  

             
       
Tips:

RoomSketcher will automatically calculate the wall measurement. However, if you want to display a specific measurement, type it in the Measurement text box.
The measurement will not be visible in the drawing pane. To see the outside measurements, when you are done adding them, either Preview the Floor Plan or Generate and Print the Floor Plan.

Click the next wall that should have a measurement, and click Show Measurement to specify where the measurement should be placed.