We create 2D and 3D Floor Plans from your blueprint or sketch. All of our high-quality floor plans are drawn to scale to the best of our ability. Our retail floor plan package includes a 2D Floor Plan, 3D Floor Plan, Live 3D, plus a digital floor plan that you can open and edit yourself.
Highlights at a glance
Floor Plans delivered next business day
Multiple download options available
Edit your floor plans in the RoomSketcher App and re-generate them at no extra cost
Continue reading to learn more about:
| | | |
| --- | --- | --- |
| Blueprint | 2D Floor Plan | 3D Floor Plan |
| | | |
Your Blueprint or Sketch
When we draw a floor plan for you, it will match the blueprint or sketch you provided. This can be an old floor plan, an architectural drawing or a hand-drawn sketch.
Upload one blueprint or sketch for every floor/level/unit in your project. If your blueprint shows several floors/levels/units, we will draw the left/upper one, unless otherwise marked.
Make sure the blueprint contains at least one measurement.
Clearly mark furniture and fixed installations – for best results consult our

Preparation Guide.
Supported file formats are jpg, png and pdf.
The uploaded blueprint must not exceed 16MB or 15000×15000 pixels.


Furnishing Options
RoomSketcher Floor Plans come with standard furniture and finishes – as shown in the images below. You can choose from three different furnishing options:
Fully Furnished
The floor plan is furnished based on room names provided, e.g. beds in bedrooms, sofa etc. in living room, bathroom fixtures in bathroom, and so on.


Furnish as Indicated
The floor plan includes furniture and fixed installations illustrated on the blueprint. Kitchen and bathroom items are only included if these are indicated on the blueprint.


Unfurnished
The floor plan includes doors, windows, and stairs, as well as kitchen and bathroom items when these are indicated on the blueprint. No other furniture is included.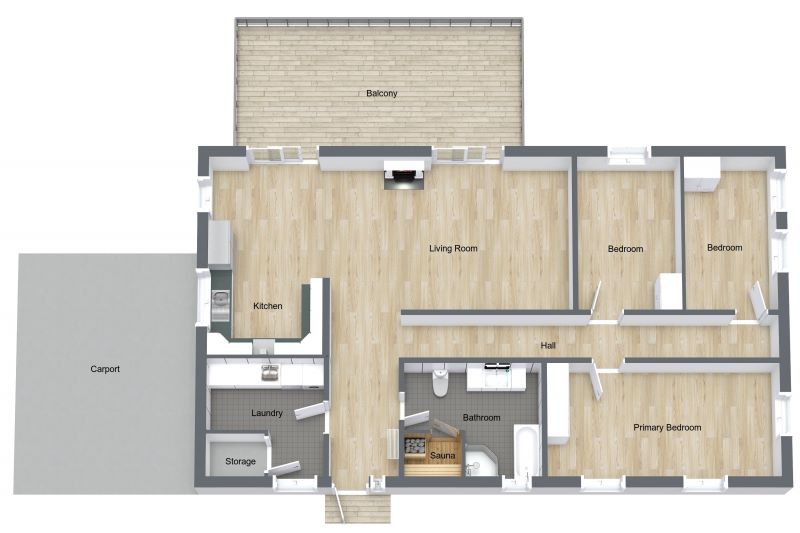 Tip: You can easily change out any furniture item, flooring, wall color, and finishes after the order has been delivered. Read more here: Edit Your Floor Plan


Outside Measurements
You can choose to display the outside measurements on your 2D Floor Plans.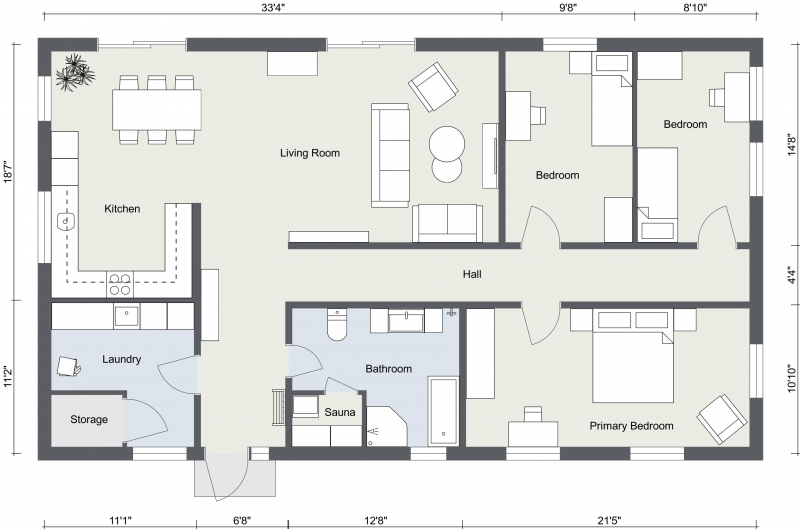 To include outside measurements, check off "Outside Measurements" when you place your order.
Outside measurements are taken from the center of the wall.
If your blueprint contains measurements, we will attempt to get the generated outside wall measurements similar to this.
Included Features
Besides high-quality 2D and 3D Floor Plans, you receive a digital floor plan that you can edit with the RoomSketcher App.

Your project is delivered with Live 3D, available for a full year.
The feature Share Live 3D Floor Plans is included in the retail price for a full year. You get unique and shareable links to RoomSketcher Live 3D for each project. These are perfect for sharing and collaborating with clients, friends, family, homebuyers and contractors. Pro subscribers can choose to add this feature.
You can use the Replace Material feature for a full year.


Print and Share Your Floor Plan
All RoomSketcher Floor Plans can be downloaded as a pdf, png, or jpg and are optimized for both web and print. Learn here How to Print or Download Your Floor Plan Order
RoomSketcher Pro subscribers can customize their Letterhead in their account settings. Add your company name, logo, project details and any disclaimer text. Learn here how:

Customize Letterhead
Print formats include A2, A3, A4 as well as Letter, Legal and Tabloid size formats.
Each order can be shared with RoomSketcher Share Live 3D Floor Plans. In addition, you receive a Project Presentation for each order, a shareable link that you can send to clients, family or friends.


Make Changes
You can easily make changes to your floor plan with the RoomSketcher App. Learn more on how to Edit Your Floor Plan.
The high-quality 2D and 3D Floor Plans can be re-generated as often as you need for up to 30 days from when you placed your order – at no additional cost.
RoomSketcher Pro subscribers can customize the look of both the 2D and 3D Floor Plans by creating a Floor Plan Profile. This can be done before or after placing the order. Learn more about profiles here:

Overview - Advanced Options for Your Floor Plan Orders


Corrections
If we have made a mistake in your floor plan, you can order a correction from us and we will fix it for you. One round of corrections within two weeks is included at no additional cost.
To learn how to order a correction,

check out our help article on

Ordering Corrections.


Details
You will receive an email once your order is ready with a link to your floor plan in RoomSketcher. Open to view, print or download your floor plans or open your floor plan in the RoomSketcher App to customize it.
Floor Plans are delivered next business day, within 24 hours of placing your order. Exceptions to these delivery times are: January 1, May 1 and December 25. Large or complicated orders may take a bit longer.
Floor plans will be drawn using the direction of the uploaded floor plan or sketch. Horizontal blueprints will become horizontal floor plans.
Floor plans are drawn as close to the given measurements as possible, with a +/- 5 cm (2") margin of error.
Standard wall-cut height for 3D Floor Plans is 1900 mm (6 ft). RoomSketcher Pro subscribers can change this in their profile settings.
Ceilings are standard height above floor 2400 mm (7' 10"). You can change the ceiling height after the order has been delivered.
Windows are standard rectangle and set to standard height above floor. You can change and customize windows after the order has been delivered.

Standard prices are for levels up to 500 m². Additional fee for levels above 500 m² apply. Maximum level size is 1000 m².
What Is Not Included?
We do not deliver sloped ceilings or dormers.
We do not deliver multi-storey 3D models or elevations.
We do not deliver floor plans above 1 000 square meters or 10 000 square feet.
Need Help?
If you have questions before you place your order, please don't hesitate to

contact us

– we are here to help.
If you have specific requirements, please let us know. We cater to lots of floor plan professionals and will try to help you as best we can.