This article describes many ways to share a RoomSketcher project, including:
Share Your Project
You can share a project by sending a project link to someone else or even by posting it on social media (such as Twitter or Facebook). The link allows a recipient to view a Project Presentation, including Floor Plans, Live 3D, 3D Photos and the furniture used in the project.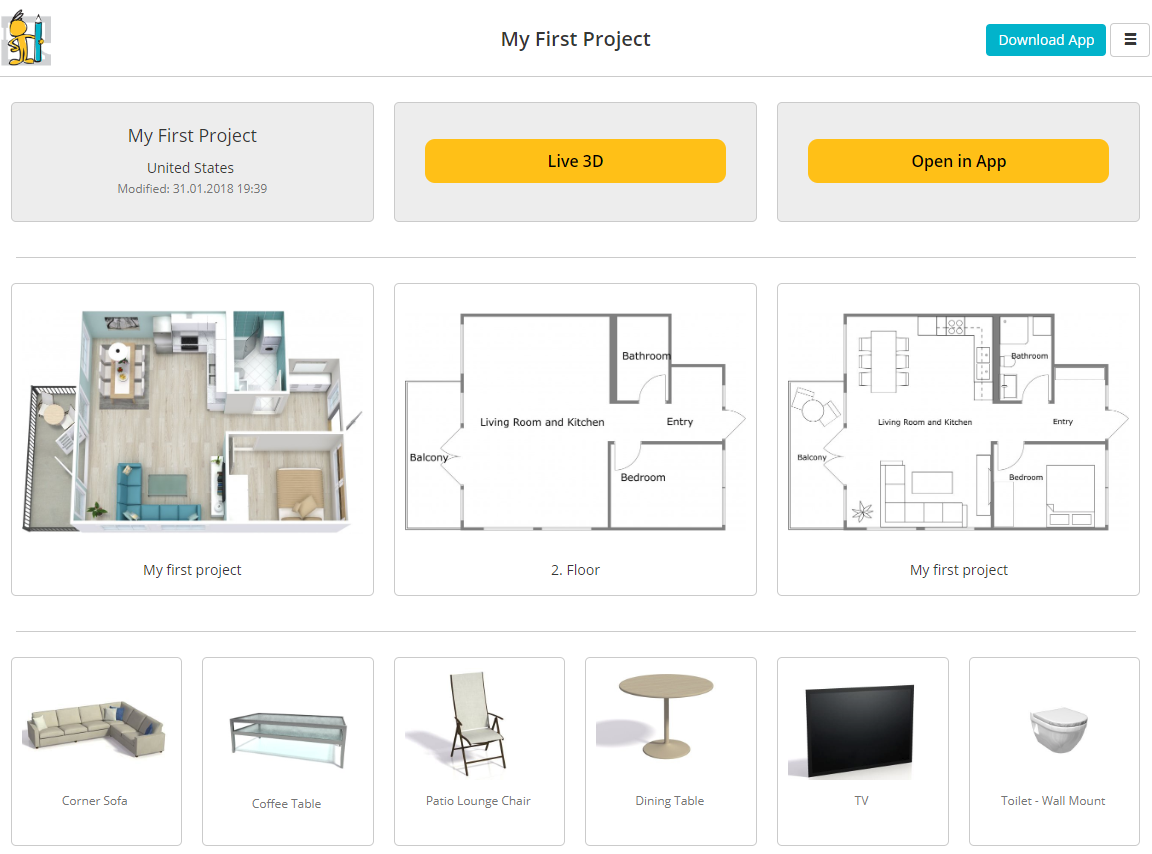 Additionally, if the person you are sharing your project with has the RoomSketcher App installed on their computer or tablet, they can open your project in RoomSketcher and edit your design. When they edit your project, they are working on a copy of it so they will not make changes to your version.
To Share a Project
Sign In to www.RoomSketcher.com. Your RoomSketcher Web Account opens.
Click the Projects tab in the top middle.




Your project list opens. Click the project you want to share.

The Project Dashboard appears. On the left-hand side, click Share.



The Share page opens. Under Share Project in the middle, you will see two items:


- A link for the Project Presentation. Copy and paste this link to send it to someone (instructions below).
- A View Project Presentation button. Click View Project Presentation if you want to see what the Project Presentation looks like.


To share the Project Presentation link
One way to copy is to left-click the link to select it, and then right-click and choose Copy.




Paste the link, for example into an email message to share it with someone. Or, sign in to your social media account, and then you can post the URL on your feed or Timeline.

When a person clicks the link on a computer or tablet, the Project Presentation opens. They can view the floor plans, Live 3D, the furniture, and more. To open the project in the RoomSketcher App, they can click Open in App.


Tip: The person must have first installed the RoomSketcher App on their computer or tablet. To do so, they can click Download App in the top right of the Project Presentation.
Branded Project Presentation
If you have a RoomSketcher Pro M account or higher, you can replace the RoomSketcher logo with your own logo. Additionally, you can add a link to your website to the logo. The project presentation shows your 3D Floor Plans and 2D Floor Plans, as well as 3D Photos and 360 Views. Furniture is not listed. Plus, your customer can open a copy of the project in the App or look at in in Live 3D.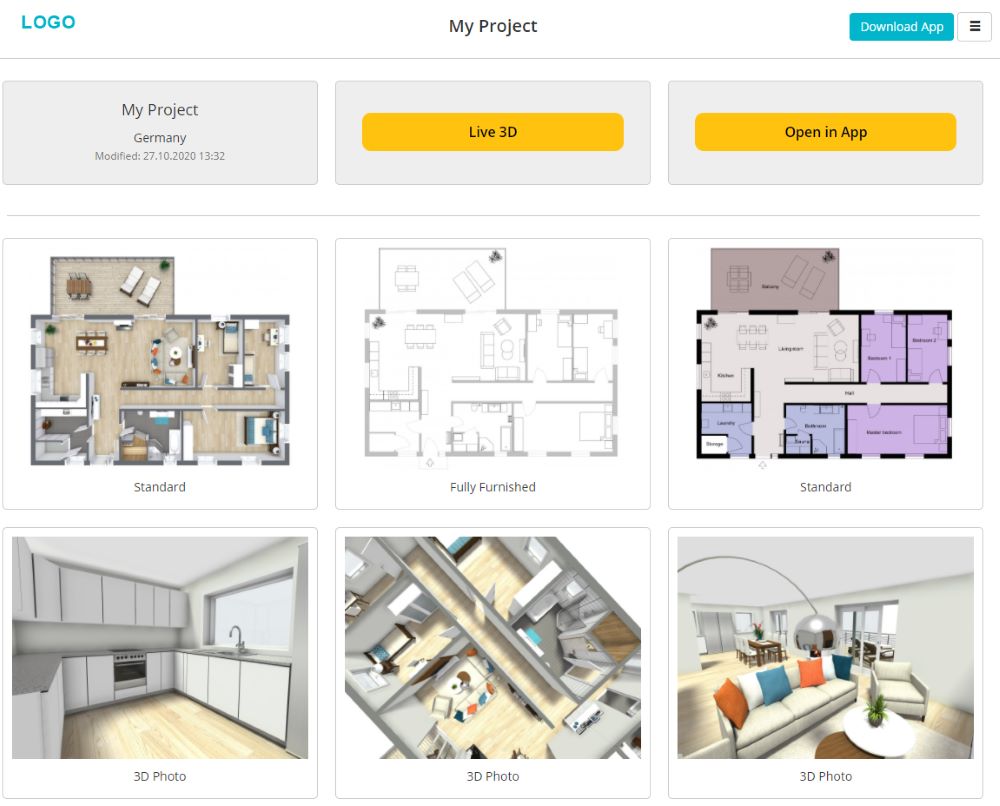 To upload a logo and add a website link
Sign In to www.RoomSketcher.com. Your RoomSketcher Web Account opens.
Click Account in the top middle, then Account Settings on the left and Advanced Account Settings on the right.
On Company tab, add your website URL and confirm with Apply.



On Logos tab, click Choose File on the top. Upload your logo. Confirm with Apply.
Note: The logo must be in format 140 x 40 pixels.




Share Live 3D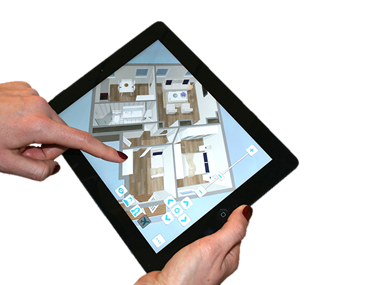 You can share Live 3D for a project. This allows people to experience your design on a smartphone, tablet or computer. They will see a live 3D walkthrough of your project - either viewing it from above or virtually walking around inside. With Live 3D, they can view your design, but they will not be able to edit it.
To learn more about how to share Live 3D, see: Share Live 3D Floor Plans.
Share 360 Views
You can share 360 Views for a project. A 360 View allows people to stand and turn around inside a room.
To learn more about how to create and share a 360 View, see Create a 360 View (App).
Share Floor Plans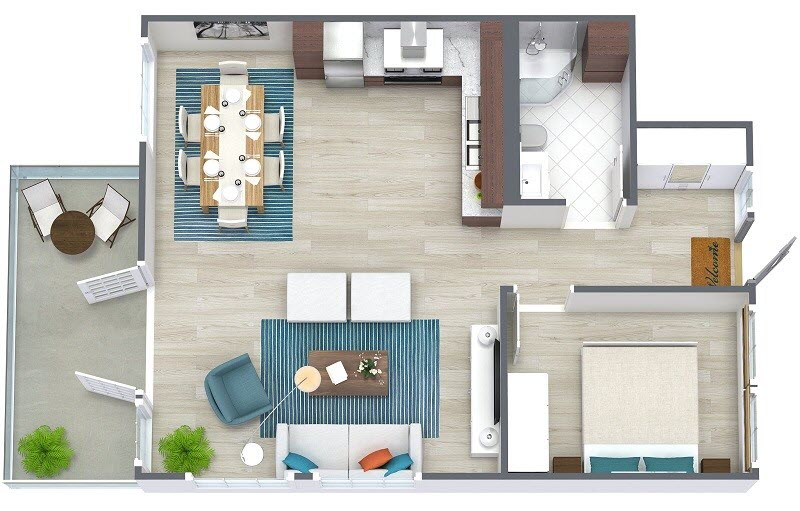 You can download 2D and 3D Floor Plans and email them as an attachment or even add them to your website. For more information, see: Generate and Print 2D and 3D Floor Plans (App).
Share 3D Photos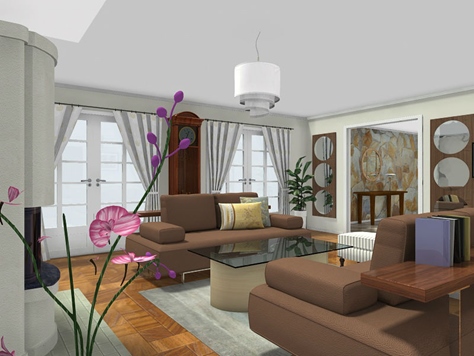 You can download 3D Photos and email them as an attachment or even add them to your website. For more information, see: Take Snapshots and Create 3D Photos (App).