This article describes the steps when using the RoomSketcher App on a computer or tablet.
With RoomSketcher, it's fun and easy to design a kitchen. You can add and size appliances, shelves, kitchen cabinets, furniture, accessories, and more. 
This article covers how to:
Draw Kitchen Walls and Add Paint, Tile, or Other Wall Materials
The first step is to draw the walls for your kitchen. If you aren't sure of the final size, start by drawing an approximate size room - you can fine tune the wall lengths later. If you need more information on how to draw walls, see Draw Walls and Rooms.
Next, add materials to the walls and floor. While we suggest that you add the materials first (before adding cabinets and appliances), you can add and change materials later in the process.  
To add materials to one wall
When working with just one wall, open Walls mode. Click Select

 to choose a wall and note that each side is labeled either A or B. On the right, click Material Side A or Material Side B (the side of the wall that you wish to add materials to) to choose a material for the wall. 
Here is an example kitchen with brick materials on one wall: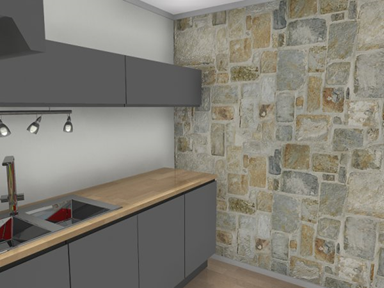 Here is an example with tiles placed on two walls to create a backsplash effect: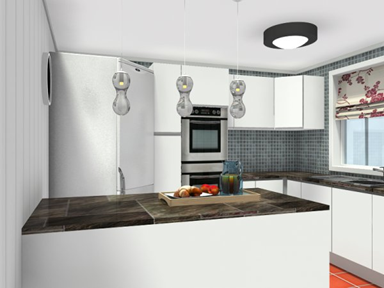 For more detailed information, see Paint, Wallpaper or Tile a Single Wall and Add a Kitchen Backsplash.
To add materials to all walls in a room
When working with all the walls in the room, open Materials mode. You can use the categories or search for a material, such as Tiles. Click to select and click to place the material on all the walls in the room. For more information, see Paint and Decorate Walls.
To add materials to the floor
Open Materials mode. Use the categories or search for a material, such as Hardwood Flooring, Tile, or Concrete, and click to select, then click to place a material into the room. For more information, see Overview - Floor Materials.
Find Kitchen Items
Now click or tap the red Mode button and open Furniture mode to find hundreds of kitchen items such as appliances, cabinets, and accessories. Check out these images of the types of available items and below the images, you'll find tips for finding kitchen items.
Appliances, including ovens, sinks, refrigerators, microwaves, dishwashers, coffee makers and more.



Accessories, such as bowls, fruit, knife blocks, books, and more.



Wall items, such as cabinets, shelves, fireplaces, pictures and more.



Lighting, including flush mount and pendants.


Here are tips to help you find just the piece you want in your design.
To Browse Using Categories
Click the red Mode button and click Furniture. The furniture library appears. Click Kitchen to open the Kitchen Category, which contains cabinets and appliances.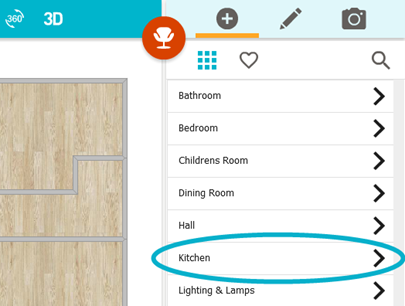 When you are done with that category, click the X to close it.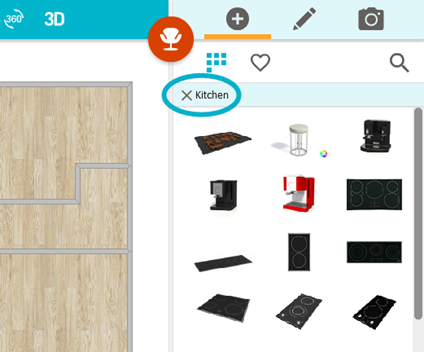 Other useful categories include Lighting, Plants and Accessories, and Dining Room.
To Search 
Another way to locate items is by searching for them. Click Search

and type the name of an item to display all items of that type.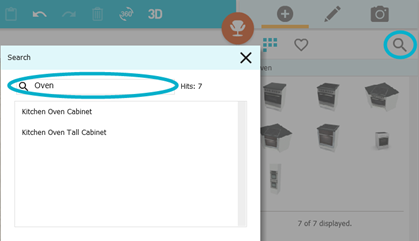 All our kitchen items are also arranged by categories. Type Kitchen into the search field to get a list of all categories. Then simply pick one to see all items of that category.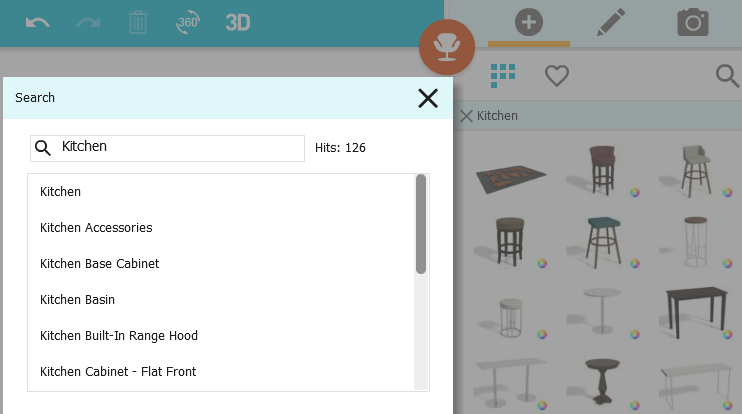 Top Tip - Favorites! 
Add your favorite pieces of furniture (and even materials) to your Favorites, for easy and quick access. To learn how, see Use Favorites for Quick Access.
Place Kitchen Items
Here are our top tips on placing kitchen items on your project:
Hover to See Details: You can hover your mouse over an item to see a larger view popup and to check its initial size (which you can change - see Customize Furniture below).



Click/tap to select and then click/tap to place: Once you have located an item of furniture in the library, click or tap to select it and click or tap to place it. The eye indicates the front of the item (the side you would place away from a wall).



Use Best Fit: When an item is slightly too wide or narrow, you can click Best Fit Width or Best Fit Length, like this:



and it automatically sizes to the space available:



For more information, see Use Best Fit to Size Items.


Snapping: When placing kitchen items near the wall, or each other, they snap into place. If you want to disable snapping, on a computer, press the CTRL key while you drag the item, or click Menu and under View, toggle Snapping ON or OFF.
More tips on placing kitchen items
Move: Press and drag the center of any item on the floor plan to move it.
Rotate: Press and drag the curved blue arrows to rotate the item or object. Or press hotkey Q to rotate the item clockwise 90 degrees. 
Delete: Press the red X to delete an item.
Precise placement: You can zoom in: Use your mouse scroll-wheel, or click Menu and then under View, click Zoom Control.
To place an item on top of another item
You may want to place a bowl or magazines on a table, or a picture above a fireplace. To learn more about adding items on top of each other, see Add Furniture or Wall Items on Top of Each Other.
Customize Kitchen Items
You can change the size of most pieces; choose the color/material for the kitchen cabinets, and Replace Materials for select items (VIP and Pro Subscriptions).
Size furniture: In Furniture mode, when you select an item, its properties appear on the right. You can adjust the Width, Depth, Height, and Height Above Floor. Or size the item by pressing and dragging the blue arrows on the left or right corner of the item.


Use Best Fit to automatically size items: You can use Best Fit to automatically size cabinets, wardrobes and closets, stairs and furniture.To learn more, see the article Use Best Fit to Size Items.


Choose the color & material for kitchen cabinets (VIP and Pro Subscriptions): In most instances, all kitchen cabinets are the same color or material, thus the option is centralized. Click Level , then click Level Properties. Choose the paint or material for the Kitchen Top for Level (Kitchen Counters) and Kitchen Front for Level (Kitchen Cabinets). 


Tip: The colors will not appear in Drawing mode, but will appear when you take a snapshot. For more information, see the article: Customize the Materials on Kitchen Counters and Cabinets.


Replace Materials: With a VIP or Pro Subscription, you can change the color and materials on selected kitchen items. Those items have the rainbow-colored Replace Materials icon. 


To learn more, see Replace Materials on Furniture and Fixtures.
View Your Kitchen in 3D While You Design
Once you have added kitchen items to your floor plan, it's time to view your design in 3D. Here are some options:
Take a 3D Photo: You can take a quick snapshot for an initial preview, and then take a 3D photo to see a beautiful photorealistic representation. To learn more, see Take Snapshots and Create 3D Photos.
View in Live 3D (VIP & Pro Subscriptions): You can take a virtual walk through your kitchen. Simply click  in the top toolbar.  
Customize How Your Kitchen Displays on Floor Plans
Once you have completed your design, it's time to generate Floor Plans. To learn more, see Generate and Print 2D and 3D Floor Plans.
If you have a Pro Subscription, you have additional Floor Plan customization options by signing in to your RoomSketcher Account on the web. To learn more, see: 
Become a VIP or Pro
Don't have a VIP or Pro subscription? No problem! Just sign in to your existing RoomSketcher account and click Buy (next to your subscription details), or buy directly from our pricing page.
Don't Have the App Yet?

Make sure you have downloaded the RoomSketcher App to your computer or tablet.