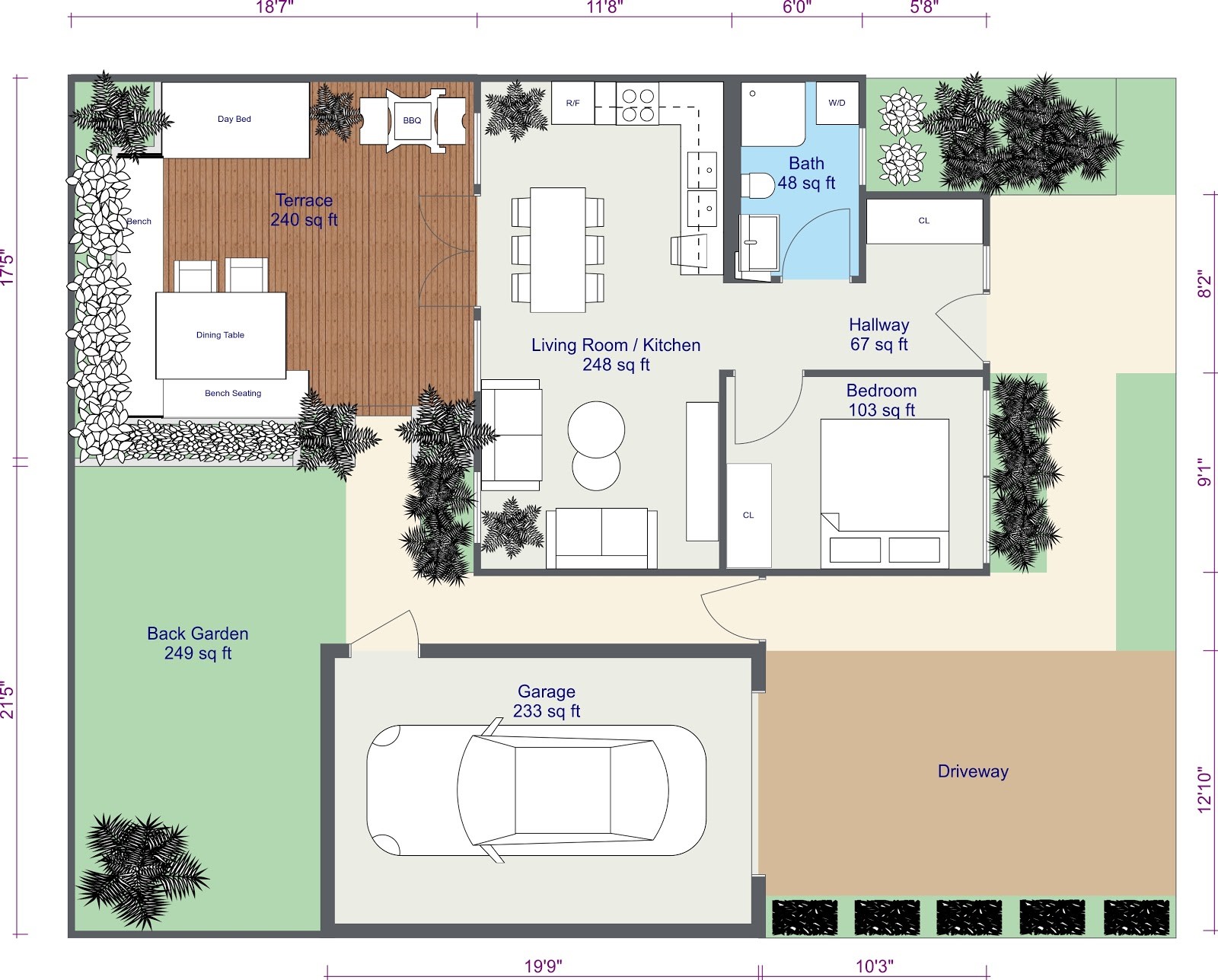 Example Site Plan

In this article, you'll learn how to create 2D Site Plans. To create 3D Site Plans, see: Create a 3D Site Plan.
This article contains the following steps:
Draw Buildings
The first step is to draw the outline/floor plan of any buildings that will appear on the site plan. You can display just the outer walls of any buildings, or you may want to show the whole floor plan (including interior walls and furniture).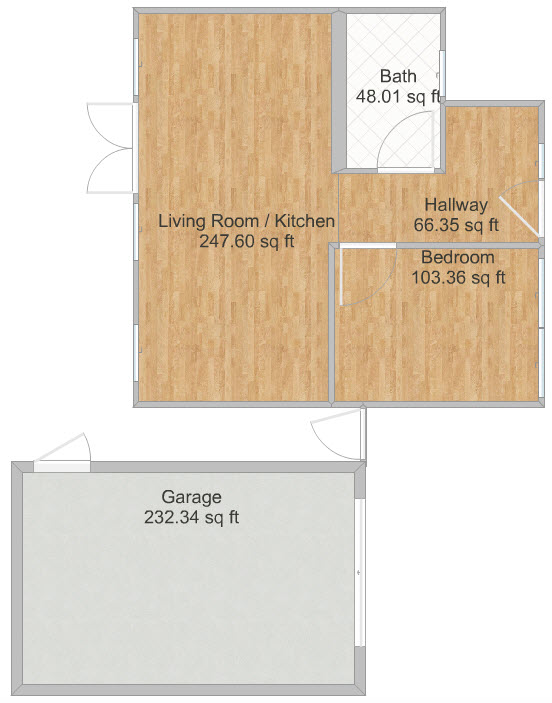 Sample buildings for Site Plan
Tip: To create a Floor Plan and Site Plan in one project
You can create a Floor Plan and Site Plan in one project using Levels. (If you want to create a Site Plan without a separate Floor Plan, skip this section). To do this:
Create your floor plan as Level 1 in a project. If you want interior walls to appear on the Site Plan, then draw them before you follow the next step.
Create a New Level and base it off of a copy of the Level 1. If you need detailed instructions on how to create a new level, see Work With Floors or Levels.
The result is one level showing the Floor Plan of the property and one level ready for the Site Plan.
Draw the Perimeter of the Site Plan
Now use Divider lines to mark the outside perimeter of the site plan.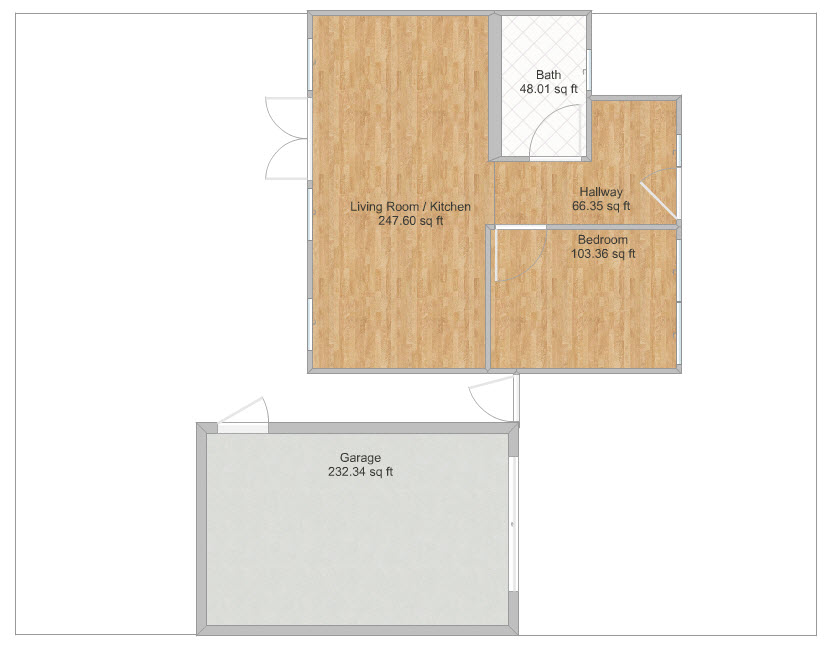 Perimeter for Site Plan
To draw a perimeter
Open Walls mode (click or tap the red Mode button and then click Walls)
Click the Draw Divider Lines button.




Draw the outline for the perimeter. Make sure to draw a completely enclosed area.
For more detailed instructions, see Draw a Yard, Garden, or Outdoor Area.
Create Zones
To create a Site Plan that has different colored areas or zones, create them using the Draw Divider Line tool. Draw zones (or areas) for your driveway, pathways, garden or lawn areas, deck, etc. This allows you to display the various areas on the 2D Floor Plan, and add colors, names, and more.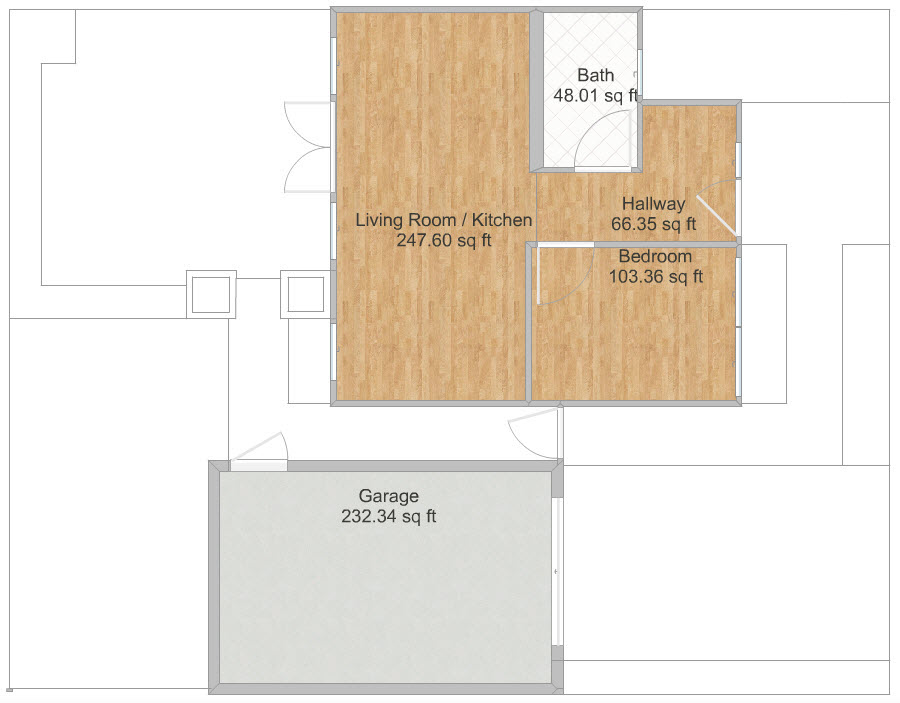 Zones for Site Plan
To draw zones
Open Walls mode if it is not already open.
Click the Draw Divider Line button.





Draw any outdoor zones. Make sure to draw complete enclosed areas.
Add Colors or Materials
You can add color or material to your zones. For example, you can set lawn areas to virtually any color green or use a material to show grass texture. A deck or terrace can be set to any color, perhaps brown, or even a wood material. A path can be a beige color or stone material. And much more.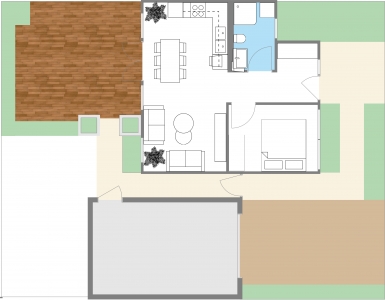 Example Colors and Materials
For colors and materials to appear on a 2D Floor Plan, you must assign them using Room Types and Room Colors as described below. If you use Properties to assign Floor Materials, they will not appear on 2D Floor Plans, only on your 3D Floor Plans.

About Room Types and Room Colors
To choose the colors and materials you would like, log in to your RoomSketcher account on the web.
1. Go to www.roomsketcher.com and Sign In to your RoomSketcher Web Account.
Click the Account tab and then click Account Settings.
Choose Advanced Profile Settings on the right.
The Floor Plan Profiles screen appears. Click the 2D Floor Plan - Rooms tab.
For the Room Types you have used in your site plan, choose either a Color or a Material. If you choose Color, choose the color you want to use. If you choose Material, choose a material from our collection. In the example above, we set the following colors and materials: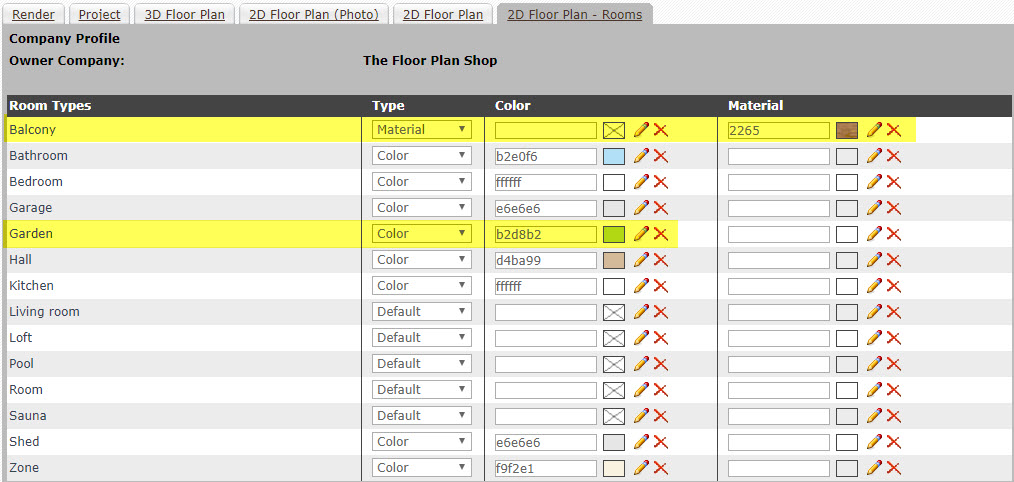 Two examples are highlighted above:
We set Balcony to be Type Material and chose a brown wood material.
We set Garden to be Type Color and chose a green color.
2. Back in the RoomSketcher App, you need to assign room types to the areas on your plan you want to be these colors or materials (in Walls mode, click the Select tool, select an area or zone, then on the right, select a Room Type). In this example, if you set Room Type to Garden, then this will show up as the green color that we specified.
Tip: For more detailed instructions on how to set Room Types and assign colors to Room Types, see the article: 2D Floor Plans - Customize your Floor Plans.
Add Plants
You can add plants, flowers, trees, hedges and more.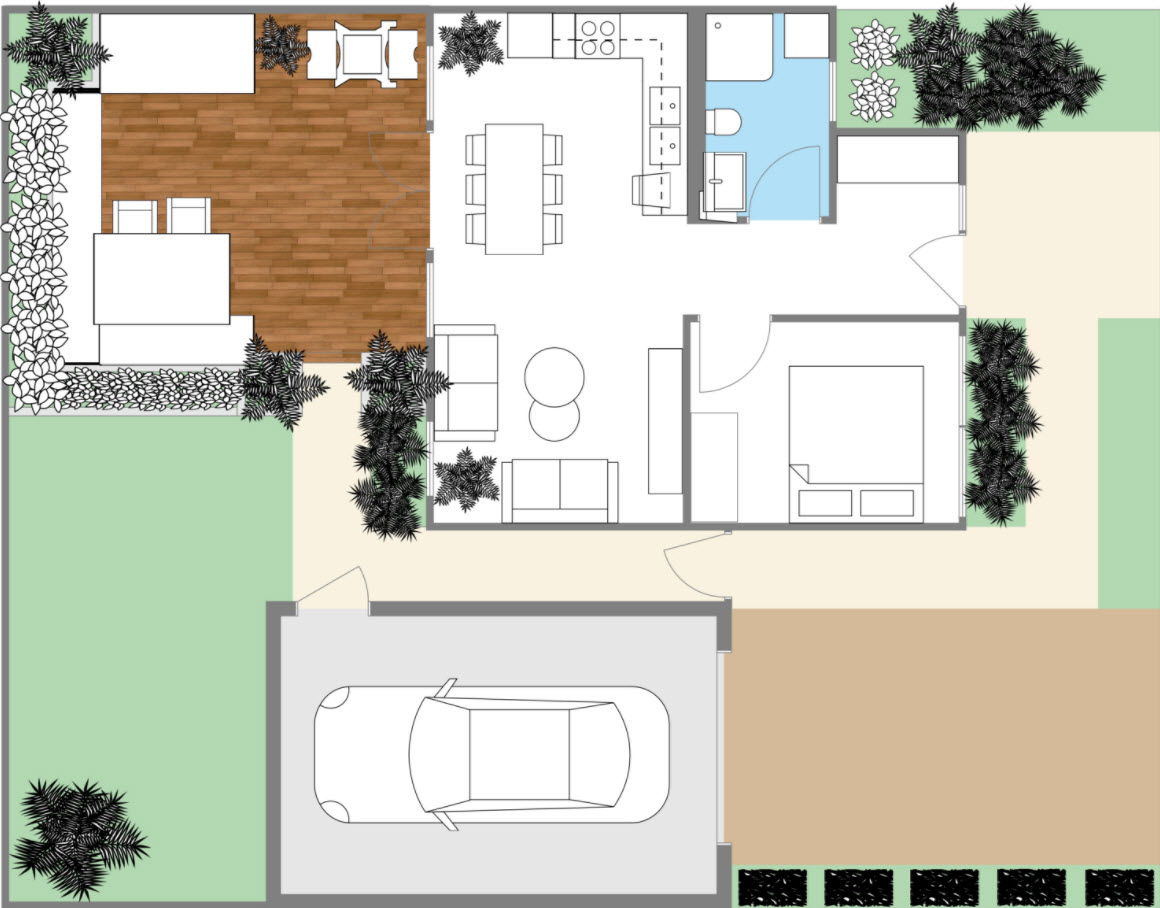 Plantings for Site Plan
To add plants
Open Furniture mode (click the red Mode button and then click Furniture).
Open the Plants and Accessories category.
Click or tap to select a plant and then click to place it on the plan.
Tip: If you place individual plants/bushes/trees in a long a line, then it will appear as a hedge of bushes in 2D.
Add Fences and Railings
On a 2D Floor Plan, a railing will appear as a double line, as shown below.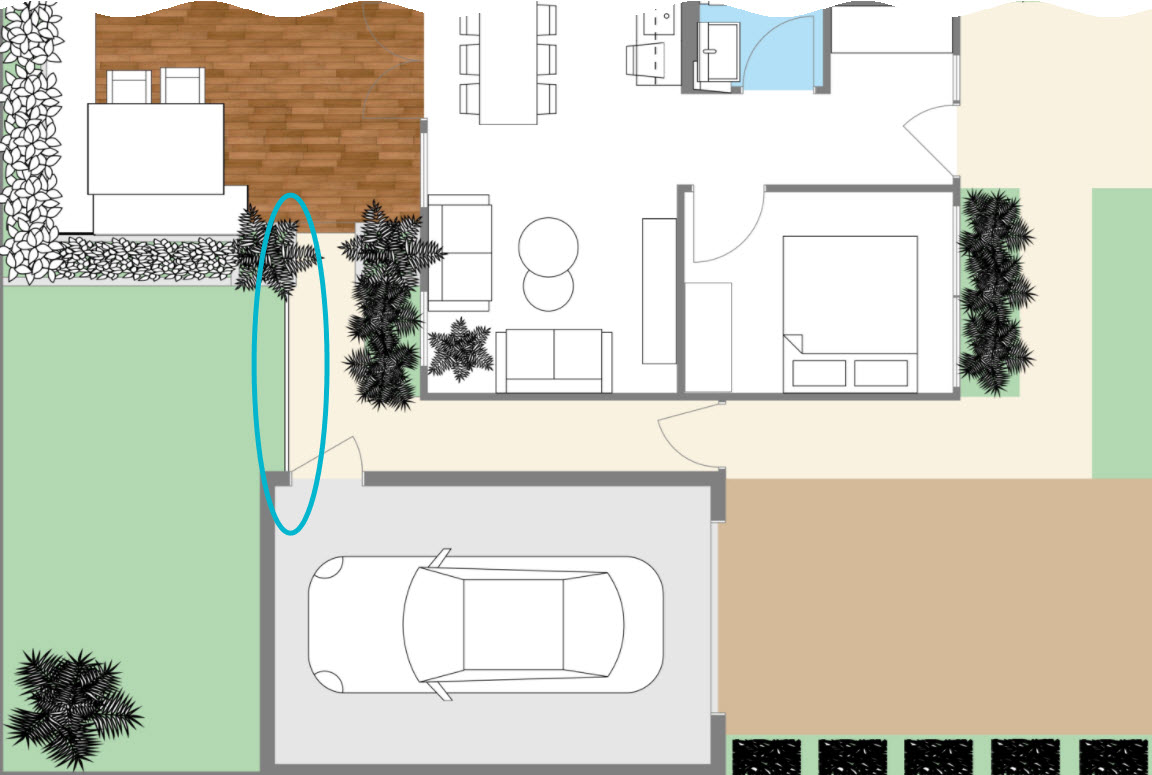 Example Railing
To add a railing
Open Walls mode.
Click the Select button, and click to select a divider line on your Site plan. Its Properties appear on the right.
Click Railing.
Choose a railing. You can select picket fences, hedges, metal railings, and more. Remember though, that they will appear as a double line on a 2D Floor Plan (they will appear fully on 3D Floor Plans).
Add Measurements
You can add measurements for outdoor areas the same way you do for floor plans.
In the example below, we've added Outside Measurements around the perimeter, plus Room Area Measurements for the Back Garden and Terrace. For detailed steps, see: Overview - Measurements on Floor Plans
Add Text, Labels, and Symbols
You can add zone names, labels, text, and symbols such as entrance arrows, or even a directional compass showing North/South/East/West. In the image below, we added zone names to the Back Garden and Terrace. We also added labels on the outdoor furniture.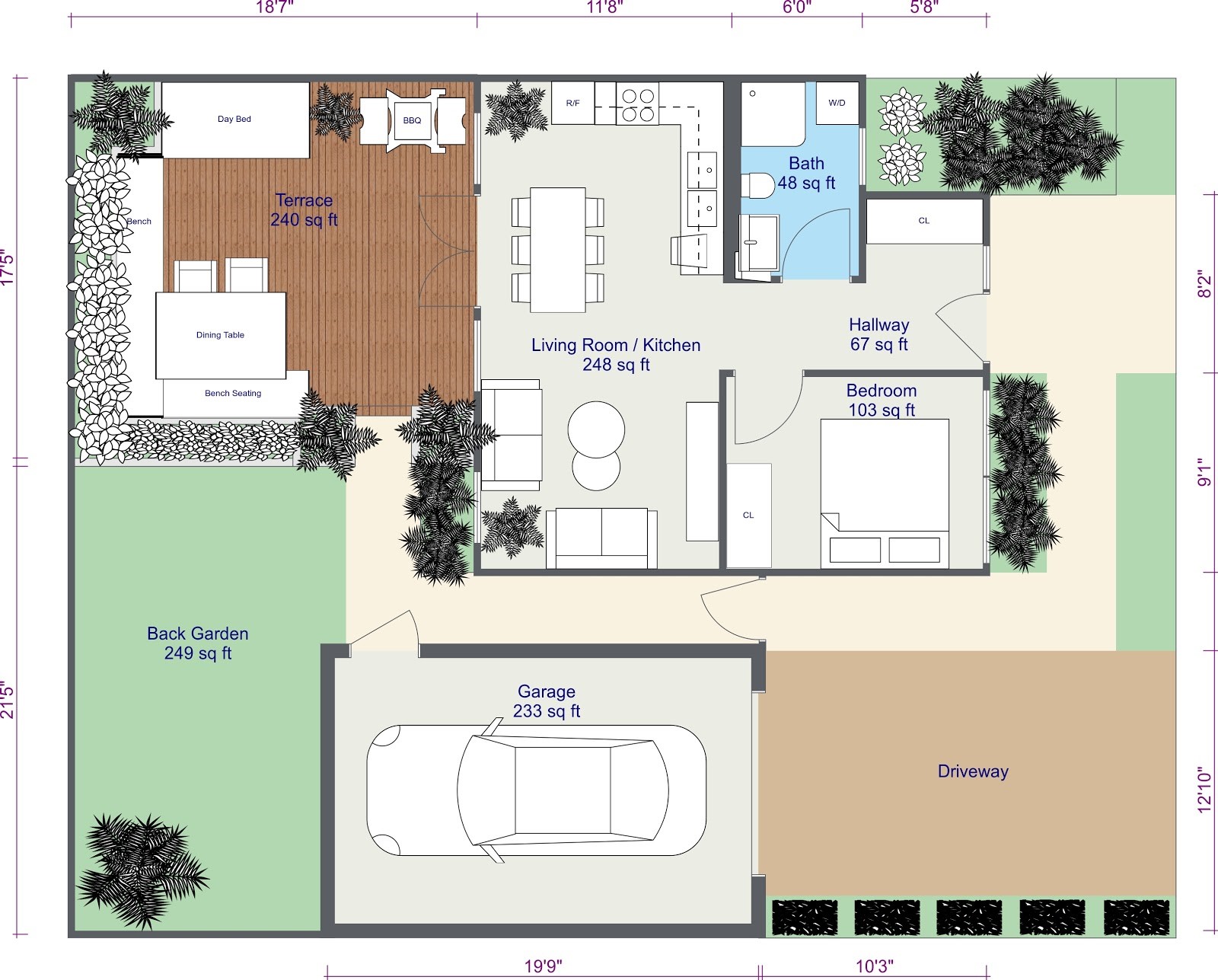 Measurements, Room Labels and Furniture Labels
For detailed steps, see:
Add a directional Compass symbol (follow the steps for adding an Entrance arrow, but select the compass rather than the arrow)
Preview and Generate Your Site Plan
You can preview your site plan as many times as you want during the design process to make sure it looks good and to check that all your zone colors and labels are correct.
Click or tap the yellow Menu, and click Preview 2D Floor Plan.
For more detailed steps, see the article: Preview a Floor Plan
The final step is to generate and print your Site Plan.
Get a Pro or Team Subscription Today
RoomSketcher Pro and Team subscribers can access the complete materials and product library, including more outdoor products, plants, trees and landscaping materials. Don't have a Pro or Team subscription? No Problem! Just log in to your existing account and click Buy next to your subscription details, or buy directly from the RoomSketcher Pricing Page.
Site Plan Examples in the Floor Plan Gallery
Check out our Floor Plan Gallery where we have many great site plans. You can open all projects in the RoomSketcher App, save a copy and make your own edits.