With the RoomSketcher App, it's easy and fun to furnish your project. You can add and re-size furniture, accessories, appliances, kitchen cabinets, bath fixtures, outdoor items, and more. This article covers how to:
Watch this video or follow the steps below. 


Find Furniture 
RoomSketcher's furniture library contains thousands of brand-name and generic products. You'll find:
Furniture, including sofas, chairs, tables, desks, buffets, area rugs, exercise equipment and more.




Accessories, such as pillows, vases, plants, magazines, books, musical instruments, gym equipment and more.
Wall items, such as fireplaces, pictures, mirrors, televisions and more.




Fixtures, such as lighting, light switches, and electrical outlets.
Kitchen items, such as cabinets, sinks, coffee makers, fruit bowls and more.




Bathroom or Laundry items, such as cabinets, bathtubs, showers, toilets, sinks, towel racks, a washer or dryer, and more.
Outdoor items,such as cars, swimming pools, jacuzzies, outdoor furniture, umbrellas, outdoor fireplaces and more.




Here are some tips to help you find just the piece you want in your design.
To View the Furniture Library: From the RoomSketcher App, click or tap the red Mode button and then click Furniture. The furniture library appears.




To Browse Using Categories: You'll see categories on the right side of the Furniture Library. Simply click any category to browse its items.
To Type a Search Term: Click Search  in the top-right to open the Search page.  Type the name of an item and then press Enter to display all items of that type.




Top Tip - Favorites! Add your favorite pieces of furniture (and even materials) to your Favorites, for easy and quick access. To learn how, see this article: Use Favorites for Quick Access.
Place Furniture
Here are our top tips on placing furniture on your floor plan.
Hover to See Details: You can hover your mouse over an item to see a larger popup and to check the initial size (which you can change - see Customize Size and Materials below).




Click-click or Tap-tap: Once you have located an item of furniture in the library, click (or tap) to select it, and click (or tap) to place it on your floor plan. The gray eye points to the front of the item (the side you would place away from a wall).




Move: Press and drag the center of any item to move it.
Rotate: Press and drag the curved blue arrow to rotate furniture.




Size: Press and drag the straight blue arrows to size an item. For more information on changing the size, see the next section.
Delete: Press the red X to delete an item.
Snapping: When placing items near the wall, they snap into place. To learn how to disable snapping, see Turn Snapping On and Off.
Precise placement: You can zoom in to your floor plan by your mouse scroll-wheel, or opening the Zoom controller (Menu> Zoom Controller).
To place an item on top of another item: You may want to place a bowl or magazines on of a table, or a picture above a fireplace. To learn how, see Add Furniture or Wall Items on Top of Each Other.
Customize Size and Materials
You can change the size of most pieces, and replace materials for selected items.
Size furniture: When you click an item you have placed in your floor plan, its Properties appear on the right. You can adjust the Width, Depth, Height, and Height Above Floor. You can also press and drag the straight blue arrows on either side of the item to adjust its size by dragging.
Use Best Fit to Automatically Size Items: You can use Best Fit to automatically size cabinets, wardrobes, and closets, stairs and furniture. To learn more, see the article Use Best Fit to Size Items.
Replace Materials: You can change the color and materials on select items. To learn more, see Replace Materials on Furniture and Fixtures.
View Furniture While You Design
Once you have added furniture to your floor plan, it's time to view your design in 3D. Here are some options:
Take a Snapshot or 3D Photo: You can take a quick snapshot for an initial preview, and then upgrade to a 3D photo to see a beautiful photo-realistic representation. To learn more, see Take Snapshots and Create 3D Photo.




View in Live 3D (Premium project & professional subscriptions): Click 3D in the upper menu to see your changes instantly, learn more here: Live 3D Floor Plans. 




Create a 360 Preview or 360 View (Premium project & professional subscriptions): Stand and turn around inside a room! To learn more, see Create a 360 View.
Display Furniture on Floor Plans
Once you have completed your design, it's time to generate Floor Plans. To learn more, see: Generate and Print 2D and 3D Floor Plans.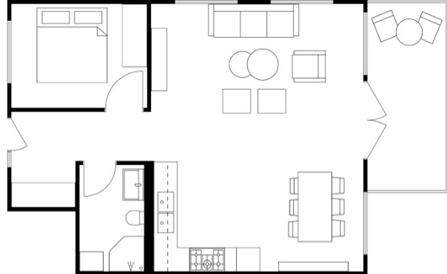 If you have a professional subscription, you can choose whether to display furniture on your floor plans, or not, and customize other options. To learn more, see: