Invest a few minutes in learning how to draw your first floor plan using the RoomSketcher App. Once you know how, it's easy!
Watch this short video to learn how to:
Draw a floor plan in the RoomSketcher App: Draw walls, add windows, doors and stairs, then furnish and decorate.
Generate the 2D and 3D Floor Plan.
Save, download or print your finished floor plan.
View Your Design in 3D with Snapshots
Use snapshots to quickly visualize your project in 3D. Just point the camera, click and see your room in 3D:
In the RoomSketcher App, press the blue

Camera

icon

, and rotate or move the camera into position.
Double-click the camera.
Your snapshot appears in the top right.
You can read more about snapshots and how to convert them into high resolution 3D Photos here: Take Snapshots and Create 3D Photos


Generate 2D and 3D Floor Plans
Once you have finished your project in the app, generate your professional 2D Floor Plan and your beautiful 3D Floor Plan.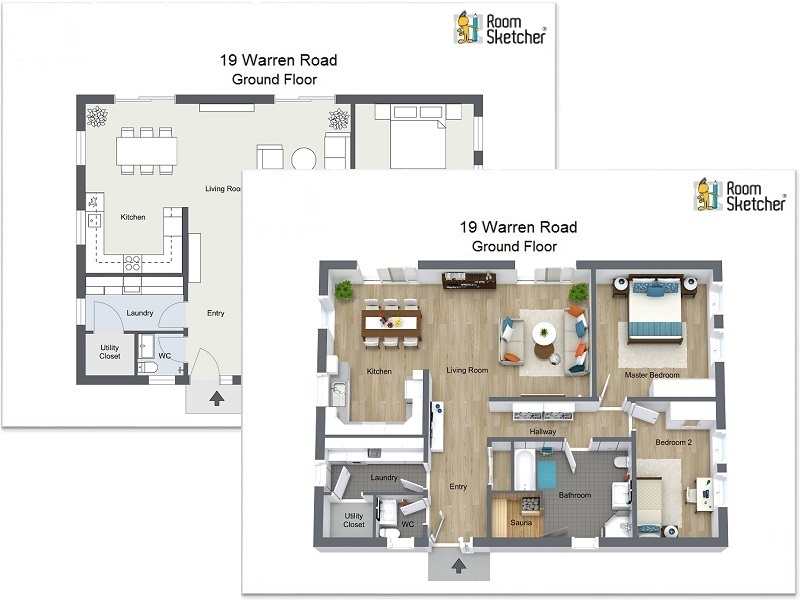 Print Your Floor Plans
Once you have generated your 2D and 3D Floor Plan, you can download and/or print them.
Great Examples in the Floor Plan Gallery
Do you need some inspirations or are you looking for a specific floor plan, such as 3 bedroom apartment plans, 2 story house plans, bathroom floor plans, etc.? Check out our Floor Plan Gallery where we have many great examples. You can open all projects in the RoomSketcher App, save a copy and make your own edits.
Don't Have the App Yet?
Make sure you have downloaded the RoomSketcher App to your computer or tablet.